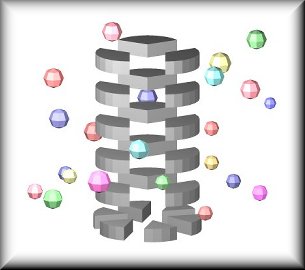 The plan of the universal enterprise has been studied in period 1998-1999 and it is proposed to realise an able system of enterprises of hegemony on the economic processes, in order to avoid the cyclical crises, determined from the insufficiencies or from the surplus of the production regarding the question solvable.
The plan previews the formation of a group of society, constituted from national and international holding and sub-holding, to which they make head the single enterprises, operating in every country, all the productive fields and above all in those considered strategic in the future: electromedical agriculture, equipment, civil aviation, biotechnology's, ecology, energy, computer science, machine tools, microelectronics, new materials, robotics, telecommunications, tourism.
The social structure and the organisation of the enterprises are of helicoidal type, a spiral, and hinge on a central co-ordination that assures the necessary control and the synergies of group.
It is previewed the constitution of a million new enterprises on the entire planet, with a total cost of approximately five thousand billions of Euro.
The resources financial institutions comes in part from the states and the international institutions and in part from private subjects, that fifty million put to disposition vital them participating to the universal sub-holding operative.
Initially, in the enterprise are occupied altogether approximately. In successive the three years from the beginning of the activities, after the consolidation of the initiative, the occupied doubling of the number is previewed of and of the value of production.
Consisting the value of the production and the productive "poliedricity" they realise an sensitive modification of the relationship between with of the production factors and the economic systems, concurring to affect on the relationships and the behaviours of such systems in order to exclude, producing to that and how much it is consumed, the chances from which draw origin the cyclic crises.
To realise the universal enterprise already have been constituted the social group of base and have been started the institutional relationships with various countries. Hour draft to realise the plans realises the units productive.